Over the past year since changing my diet and lifestyle one of the hardest things I have found  to replace with a lower carb version that actually tastes good and has a consistent result has been breads. I have tried so many different recipes which have worked out okay but are too cake-like, which doesn't really cut it when you want to make a burger or sandwich. However, I have recently discovered this recipe for flax seed buns and I have been making them on a weekly basis ever since! They are fluffy, sturdy and far more bread-like than anything else I have tried so far!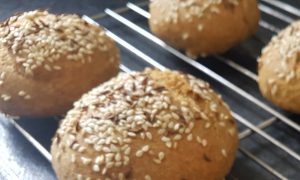 Flax Seed Buns
Ingredients
3 eggs
150grams Ground Golden Flax Seeds
2 Tbsp Apple Cider Vinegar
3 Tbsp Water
2 Tbsp Coconut oil
1.5 Tsp Baking Powder
Sesame Seeds
Caraway Seeds
Preheat oven to 180C and line a tray with baking paper
In a large bowl combine eggs, oil, vinegar and water
Mix in flax seeds and baking powder
Leave the mixture to sit for 5mins and thicken up, it is quite a sticky mixture so don't use a food processor or it will be a nightmare getting it out
Once the mixture has thickened up, form into  bun shapes and place on the lined tray. Wetting your hands between each roll stops it from sticking. You will get 6 buns out of the mixture.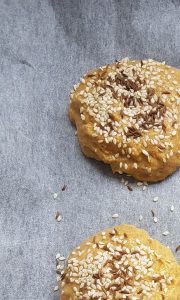 Sprinkle with Sesame and Caraway seeds and then bake for 20-22minutes.
If you can't find ground Golden Flax Seeds and don't have a spice grinder to do it yourself, regular ground flax seeds are more readily available. They produce a darker bun, similar to a rye bread, personally I prefer the golden variety.