Recently I have drastically reduced the amount of meat I eat, I have got from just having a Meat Free Monday to having  a predominantly Meat Free Week. I have found  having to compensate for the lack of meat has really changed my opinions on a lot of foods. I'm far more open to ingredients I have never been fond of. One of them being eggplant, it is something I had never enjoyed in the past but is now one of my favourite ingredients to cook with, as a side dish and in this case as the main feature
Eggplant Schnitzel
1 large Eggplant
1 Egg
1/2 C Fine Polenta
1/2 C Almond Meal
1/4 C Linseeds
Olive Oil
Salt
Preheat the oven to 200C
Slice the eggplant into 4 thick slices, I cut the skin off both sides and used it later in my vegetable stock.
Spread the "schnitzels" out onto a plate and generously cover with salt , leave for about 1 hour to draw out the moisture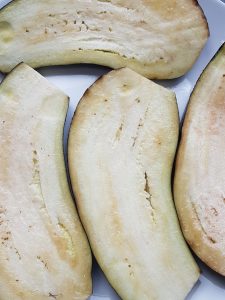 Rinse off the excess salt and then thoroughly dry the eggplant with paper towels.
Beat an egg in a bowl an set aside
Combine the polenta, almond meal and linseeds in a flat bowl or on a plate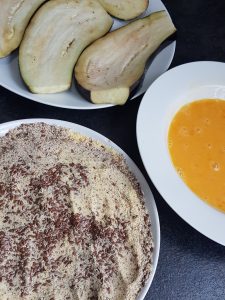 Coat each slice in the egg, and then in the dry mix ensuring it is all covered
Place the coated eggplant onto a foil lined baking tray, drizzle with olive oil and then bake for 25 – 30 mins, turning once.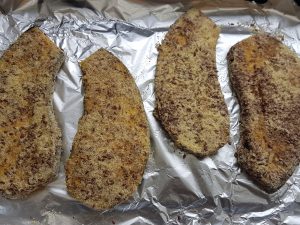 I like to serve with some roasted red peppers and microgreens